Week 1, Term 2, 2021 Newsletter
News from the Principal
Dear Parents and Families,
Welcome back to our new school term. I hope everyone has had a restful break and enjoyed their Easter celebrations with family and friends.
As a school community, we celebrated Easter with an Easter Liturgy on our last day of Term 1. A big thank you to our children for their wonderful depiction of the Easter story and thank you to Libby McKew who co-ordinated the very meaningful liturgy.
We also had a wonderful Easter Bonnet Parade and an Easter Raffle to end our term and I congratulate both the particpants and the winners for their amazing efforts.
I will be driving the school bus to and from the P and F Mother's Day lunch at Clyde Park on Saturday 1st May. This is the week before Mother's Day, so please come along and enjoy a very well deserved day out, on what I believe to be one of the most important celebrations of the year!
This Friday, 23rd April we will be having our Anzac Day Liturgy at 2:45 pm. We thank Bryan Sadler, who will be playing his guitar and singing Anzac Day songs for us. All family and friends welcome to join with us. Our school captains, Zoe and Kurt will represent us at the Anzac Day Ceremony at the Ballan Cenopath on Sunday.
ANZAC Day badges are available for sale in the school foyer and range from $1.00 - $5.00.
ANZAC DAY PRAYER
Peace is quiet. Peace is no war. Peace is still. Peace is clouds floating through the sky.
Peace is a smile between friends. Peace is a hug from someone who loves you.
Peace is saying sorry. Peace is a sleeping child.
Peace makes us feel good. Peace is something we share.
As we remember those who have died so that we may be set free.
Let us all work for peace.
Thank you for your understanding in regard to our swim/gym cancellation on Monday. The swim/gym program will begin next Monday and will run for five consecutive Mondays.
Thank you to all families for your support and keep warm as the cold weather hits.
Paul McDowell
Easter Liturgy
Easter Bonnet Parade & Raffle.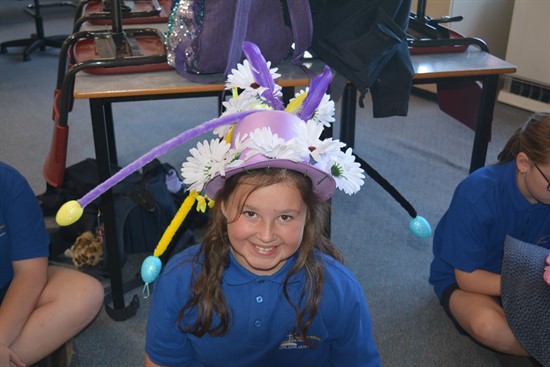 Prev
Showing images
1 - 8
of 16
Next
Parent/Teacher/Student interviews in Term 2, Week 2. Bookings are via Parent Access Module.
Dear Families,
Parent/Teacher/Student interviews will take place on Wednesday 28th April from 3:45 pm to 7:45 pm. Each interview will run for 10 minutes.
Parents are now able to book appointments via our Parent Access Module. (PAM)
Parents will have received an email link last Friday (please check in your junk folder), your user name is your email address and then click on forgot password to set your own password.
Alternatively go to https://pam.spgordon.catholic.edu.au to access the Parent Access Module Login.
You are able to save the above address to your mobile device by adding to Home Screen.
For any further queries, please contact the school office.
Anzac Day
On Sunday, Australians across the country will pause to remember in a special way, all Australians and New Zealanders who have died in war and served our country.
We remember this past history of war, and pray that, in the future, all people will work to make peace, not war. The spirit of Anzac, with its human qualities of courage, mateship, and sacrifice, continues to have meaning and relevance for our sense of national identity. In 1915, Australian and New Zealand men some not a lot older than our Year 6 boys, together with British, Indian and French soldiers were sent to fight in the part of Turkey known as the Gallipoli peninsula.
It was because of the way those Australians and New Zealanders fought, and the way they faced the hardships and dangers that confronted them, that the initials became a word -ANZAC - which today is respected in both Australia and New Zealand.
Their actions forged what has become known as the ANZAC spirit and that spirit has been the driving force behind all Australian servicemen and women ever since -in France, later on in World War II, Korea, Malaysia, Borneo and Vietnam, all of which happened long before many of us were born. It is also present in the operations our service people undertake today.
We will pause on Sunday to acknowledge all current and former members of our defence forces – the brave men and women who represent our country on a daily basis. No Australian is left untouched when a member of our defence force is killed in action.
It is difficult to comprehend the grief associated with the loss at war of a parent, partner, child or sibling, let us also ensure that we remember the families.
As we commence a new term and reflect on this significant event, we need to remind ourselves of how fortunate we are to live in a country where peace and democracy can be taken for granted. Many countries throughout the world continue to suffer from war with death and separation a daily event.
May we continue to be Christ like in our words and actions as peacemakers within our own communities.
Swimming & Gym Program 2021
Dear Parents,
All children will be attending swimming & gymnastic classes in Term 2. The program will now commence on Monday 26th April and run for five consective weeks.
We suggest that children wear their bathers under their school uniform. Their uniform for the day will be school tracksuits or sports shorts and polos. We request that children bring a small backpack containing towel, underwear, thongs/sandals and a plastic bag for wet swimwear. It is also highly recommended for your child to have a pair of goggles. All items should be clearly named.
Children will be eating lunch prior to leaving school and we ask that children bring a small bottle of water to have during gym and pieces of fruit for easy eating.
We will be departing from school at approx 11:45 am and returning by approximately 3:15 pm. We will be travelling on a bus provided by Ballarat Coachlines.
Thank you for your support.
Principal and Staff: St Patrick's School, Gordon.
PARENTS AND FRIENDS MOTHER'S DAY LUNCH - PLEASE RESERVE YOUR TICKET.
Dear Mums,
Please join us for a wonderful day out to celebrate Mother's Day. Join with us for Lunch at Clyde Park Winery and Bistro on Saturday, 1st May, 2021.
The bus will leave St Patrick's Primary School carpark at 11 am and will return to Gordon at 4pm.
The ticket cost is $90 and this includes champagne on arrival and a two course lunch. Limited numbers, so please reserve your ticket for a wonderful and well deserved day out. Tickets are available at the school office.
For all enquiries or dietary requirements, please phone Bron on 0406 205 308.
DATES FOR YOUR DIARY
Wednesday 21st April - Sports - Touch Football.
Friday 23rd April - Sports afternoon with St Brendan's Dunnstown.
Friday 23rd April - ANZAC Day Liturgy and Assembly at 2:45pm. All welcome.
Monday 26th April - Swimming Gym Program - Week 1
Wednesday 28th April - Parent Teacher interviews 3.45pm - 7.00pm
Tuesday 27th April - Debating for Year 4, 5 & 6 students.
Wednesday 28th April - Sports - Touch Football.
Friday 30th April - Cross Country event for qualifying senior children.
Saturday 1st May - P and F Mother's Day Clyde Park celebration.
A Mother's Day stall will be held on a date to be advised. Children choose gifts and they are wrapped and ready for gifting on Mother's Day.
Sunday 9th May - Mother's Day.
Monday 3rd May - Swimming Gym Program - Week 2
Wednesday 5th May - Sports - Touch Football.
Monday 10th May - Swimming Gym Program - Week 3
Tuesday 11th May - Footsteps Drama Incursion
NAPLAN Testing - Year 3 & 5 students Tuesday 11th May, Wednesday 12th May & Thursday 13th May.
Wednesday 12th May - Sports - Touch Football
Monday 17th May - Swimming Gym Program - Week 4
Wednesday 19th May - Sports - Touch Football
Sunday 23rd May - Confirmation Mass for the Sacramental participants.
Monday 24th May - Swimming Gym Program - Week 5
Wednesday 26th May - Sports - Touch Football
Monday 14th June - Public Holiday for Queen's Birthday.
Friday 25th June - Term 2 break up at 1:15 pm.
Out Of Hours School Care Program
I wish to advertise that places are available for both long term and casual placements on all days