Week 10, Term 1, 2021 Newsletter
News from the Principal
Congratulations to everyone for a fantastic sports day at Bacchus Marsh on Monday. We were very proud of the children, their efforts and their behaviour. It was also great to see so many parents and grandparents coming and supporting the children on the day.
Congratulations to those children who were recognized on the day as Champion Boy or Girl for their age groups. Out of fourteen possible championship awards, seven were awarded to students from St Patrick's. What an achievement!
CHAMPION BOYS AND GIRLS ON THE DAY IN THEIR AGE GROUP
Jess Van Egmond, Sienna Muir, Jobe Blazko, Ollie Peoples, Sienna Kenna & Rose Flint.
RECORD HOLDERS ON THE DAY
Sienna Muir (200m record holder), Jobe Blazko (200m record holder), Ollie Peoples (200m record holder), Sienna Kenna (200m record holder) & Rose Flint (200m record holder).
I would like to thank all staff, parents and children for such a great start to the year and for welcoming me into your school community.
I hope everyone has a most enjoyable break and that you rest up ready to continue the good work next term.
Happy Easter to you all!
Paul McDowell
Moorabool School Sports Day
Easter Prayer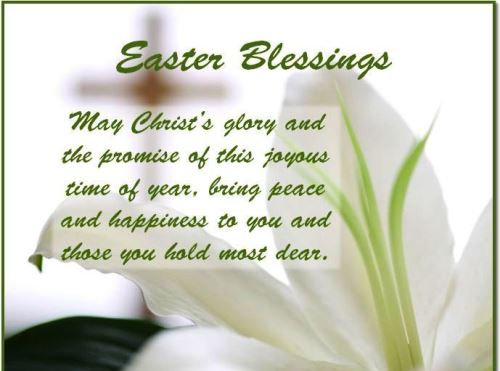 HOLY WEEK MASS TIMES
29 March- 1 April
Ballan 30 March, 7 pm Mass Fr Ed Moloney
Dunnstown 31 March, 7pm Mass Fr Sajan Mathew
Ballan 1 |April,-7.30 pm Holy Thursday Fr Ed Moloney
Dunnstown 1 April, 7.30 pm Fr Sajan Mathew
Ballan 2 April, 10 am Good Friday - Stations of the Cross Lay Lead
Springbank 2 April, 3 pm Good Friday - Commemoration of the Cross Fr Sajan Mathew
Parish Mass Times:
| | | | | | |
| --- | --- | --- | --- | --- | --- |
| | 1st Sunday | 2nd Sunday | 3rd Sunday | 4th Sunday | 5th Sunday |
| Saturday 6.30pm | Dunnstown | Springbank | Dunnstown | Clarkes Hill | Springbank |
| Sunday 8.45am | Gordon | Bungaree | Gordon | Gordon | Bungaree |
| Sunday 10.30am | Ballan | Ballan | Ballan | Ballan | Ballan |
EASTER LITURGY, EASTER RAFFLE & EASTER BONNET PARADE
Dear Families,
We invite you along to our school hall to join with us for our school liturgy from 11:45 am to 12:45 pm on Thursday 1st April. This will be followed by the drawing of our Easter Raffle and the Easter Bonnet Parade.
Children will be dismissed for their Term 1 holiday break at 1:15 pm.
EASTER BONNET PARADE
Children are invited to participate in an Easter Bonnet Parade on Thursday 1st April at 1:00 pm. This is a home based activity and there will be prizes for the best decorated bonnet/hat.
Graze in the Maize
What a wonderful gathering of Parents and Friends there were on Sunday at Donegan's Farm.
I thank the Parents and Friends for organising a great social day for families. Although the weather wasn't fantastic, people rugged up and enjoyed food, drink, music and great company.
Josie Donegan even had the opportunity to catch up with some of the alumni students from St Patrick's, that she had taught many years ago.
It was the first time I have been to Donegan's Farm and I was very impressed with all that it has to offer the Gordon community and beyond.
Graze in the Maize Photo Gallery
Parent/Teacher/Student interviews in Term 2, Week 2.
Dear Families,
Parent/Teacher/Student interviews will take place on Wednesday 28th April from 3:45 pm to 7:45 pm. Each interview will run for 15 minutes.
Parents will be able to book appointments in Week one via our Parent Access Module (as explained below).
Swimming & Gym Program 2021 Week 1, Day 1, Term 2.
PLEASE NOTE: ON THE FIRST DAY OF TERM 2, OUR SWIM/GYM PROGRAM BEGINS
Dear Parents,
All children will be attending swimming & gymnastic classes in Term 2. The program will commence on Monday 19th April (Week 1, Day 1 of Term 2). This program will be running every Monday for 5 consecutive weeks.
We suggest that children wear their bathers under their school uniform. Their uniform for the day will be school tracksuits or sports shorts and polos. We request that children bring a small backpack containing towel, underwear, thongs/sandals and a plastic bag for wet swimwear. It is also highly recommended for your child to have a pair of goggles. All items should be clearly named.
Children will be eating lunch prior to leaving school and we ask that children bring a small bottle of water to have during gym and pieces of fruit for easy eating.
We will be departing from school at approx 11:45 am and returning by approximately 3:15 pm. We will be travelling on a bus provided by Ballarat Coachlines.
Thank you for your support.
Principal and Staff: St Patrick's School, Gordon.
PARENTS AND FRIENDS MOTHER'S DAY LUNCH
Dear Mums,
You are invited to celebrate Mother's Day with us by joining us for Lunch at Clyde Park Winery and Bistro on Saturday, 1st May, 2021.
The bus will leave St Patrick's Primary School carpark at 11 am and will return to Gordon at 4pm.
The ticket cost is $90 and this includes champagne on arrival and a two course lunch. Limited numbers, so please reserve your ticket for a wonderful and well deserved day out. Tickets are available at the school office.
For all enquiries or dietary requirements, please phone Bron on 0406 205 308.
Out Of Hours School Care Program
After attending this Term's Out of Hours School Care Board meeting this week, I wish to advertise that places are available for both long term and casual placements on all days, particulalrly Wednesdays and Fridays. If you are interested in using this service offered by St. Patrick's contact the office and we will assist you in the booking process. Niamh Fitzpatrick has graciously offered to attend meetings on behalf of families with me each term. Thank you Niamh.
DATES FOR YOUR DIARY
APRIL
Thursday, April 1st - Stations of the Cross Liturgy @ 11.45am, followed by drawing of the Easter Raffle and Easter Bonnet Parade. Children break up for Term 1 holidays at 1:15 pm.
Thursday, April 1st - School concludes for Term One @1.15 pm
Monday 19th April - Term 2 resumes
Monday 19th April - Swimming Gym Program - Week 1
Monday 26th April - Swimming Gym Program - Week 2
Monday 3rd May - Swimming Gym Program - Week 3
Monday 10th May - Swimming Gym Program - Week 4
Monday 17th May - Swimming Gym Program - Week 5
Friday 23rd April - Sports afternoon with St Brendan's Dunnstown.
Tuesday 27th April - Debating for Year 4, 5 & 6 students.
Wednesday 28th April - Parent Teacher interviews 3.45pm - 7.00pm