Term 3, Week 4 School Newsletter.
News from the Principal
Dear Families,
I would like to congratulate Angela, Aidan, Rose, Macy and Elle on receiving the Sacraments of Confirmation and Eucharist at recent weekend Masses. The children joined in a wonderful celebration with Fr. Justin Driscoll. Thank you to Therese Winter and Elizabeth McKew for preparing the children so well and co-ordinating the Masses.
We offer our thoughts and prayers to Fr. Justin and his family on the loss of his much loved brother, Tony Driscoll. Tony was the Northern Grampians Shire Council Mayor and served on the Shire Council since October, 2012. Cr. Driscoll is remembered for his dedication and integrity within his community.
This week the Foundation pupils celebrated 100 days of school. The pupils and Miss Mac dressed as 100 years olds to mark their milestone. Students took part in a range of activities based on the number 100. Congratulations and thank you to all parents, who went over and above with amazing costumes. It was a fabulous day!
I once again ask that all children bring over clothes for outside play. Old and loose clothes over the uniform certainly protects the uniform.
A reminder that FRIDAY 12th August and MONDAY 15th August are school closure days.
Our Book Week Parade will take place on Thursday 25th August from 9:15 am to 10:15 am. All families are invited to join with us and we will have a complimentary coffee van onsite.
WEEKEND MASS TIMES
Saturday - Dunnstown – 6.30 pm, Sunday – 8.45 am, Gordon & Ballan – 10.30 am.
Enjoy the rest of your week.
Paul McDowell.
100 Days of School
Term Three Dates
Thursday - school lunch orders are available from the Gordon Shop. Please order and pay on Wednesday, or first thing Thursday morning and lunches will be delivered to the school at lunchtimes.
Playgroup is held every Monday morning, commencing at 9:30 am in our school hall, unless otherwise advised. All community families and friends welcome.
Friday 5th August - School Assembly at 3:10 pm. All families welcome.
FRIDAY 12th August and MONDAY 15th August are school closure days.
Wednesday 17th August - Sovereign Hill whole school excursion.
Friday 19th August - School Assembly. All families welcome.
THURSDAY 25th August -Book Week Parade in the school hall at 9:15. All families welcome. Complimentary coffee van will be onsite.
Monday 29th and Tuesday 30th August - 2023 Foundation Family interviews.
Friday 2nd September - School Assembly. All families welcome.
Friday 9th September - Mission Day Fete beginning at 12:45 pm.
Friday 16th September - Term Three ends at 1:15 pm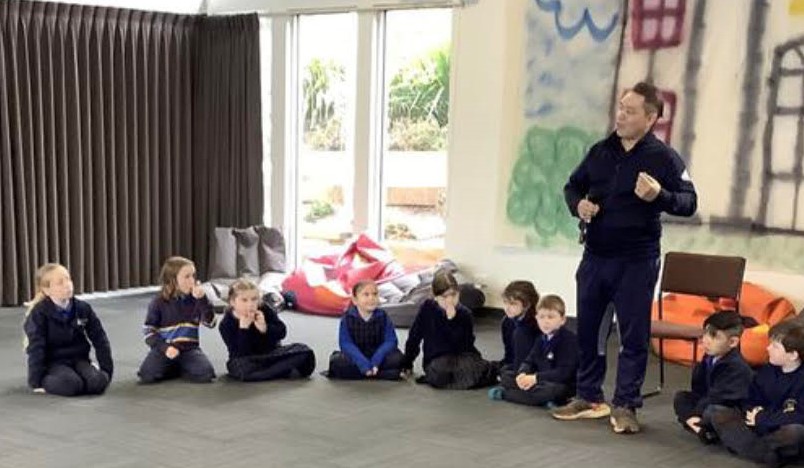 As part of our Inquiry unit focusing on Social Justice, we had two incredible speakers at our school last week.
Sr. Kathleen Moran spoke to the children about her journey as a Catholic Mercy nun and Huey Tran spoke to the school community about his journey to Australia as a refugee.
Both stories were inspiring and very moving and we are very proud to have Huey and Kathleen as part of our school and wider community.
Children's Day 2022 theme – 'My Dreaming, My Future'
National Aboriginal and Torres Strait Islander Children's Day is our national day dedicated to celebrating our children. Children's Day is celebrated across the country each year on 4 August.
Children's Day is a time Aboriginal and Torres Strait Islander families and communities and all Australians, celebrate the strengths and culture of our children. It is an opportunity for us to show our support for Aboriginal and Torres Strait Islander children, as well as learn about the crucial impact that culture, family and community play in the life of every Aboriginal and Torres Strait Islander child.
Aboriginal and Torres Strait Islander children are born into stories of their family, culture, and Country. They carry with them the songlines of their ancestors and culture, passed down by generations. Their Dreaming is part of our history, while their futures are their own to shape.


We thank Logan and Jenna for organising the great boomerang activity for our students.