Term 2, Week 3 School Newsletter
News from the Principal
EVERY CUPPA MAKES A DIFFERENCE
Dear Families,
We will be hosting a Biggest Morning Tea on Thursday 19th May at 11:00 am in our school hall. Every single dollar raised, makes such a life-changing difference in funding vital cancer research, prevention programs and support services for cancer patients and their families.
$150 provides transport and a night's stay at a local Cancer Council Lodge for people who need to travel for vital cancer treatment. $510 helps provide training to leaders of cancer support groups so they can offer emotional and practical support to those impacted by cancer. $1000 helps develop a blood test to monitor a patient's individual response to cancer treatment.
We invite you and your family and friends to join with us at this Morning Tea on the 19th May at 11:00 am in our school hall.
A gold coin donation will gain you entry and a delicious morning tea. There is also the option of a QR code to make donation directly to our fundraiser.
We will also be having a Rebel Sports Hamper raffle on the day, so bring along coins. We would appreciate if school families could donate a plate of food for sharing.
Last week I attended the Year 5/6 Camp at Kyneton. It was a very good camp and the weather was fabulous on both days. The children were amazing and we had a lot of fun, as you will read in their recounts below.
The swimming/gym program commenced this week at the Ballarat Aquatic Centre. The children enjoyed their afternoon. Please make sure that all clothes are well labelled for future lessons. One child has come home with a long sleeved size 4 tshirt, when her tshirt was a size 8. Can all families please check their children's clothing.
Our Japanese Day was brilliant and we sincerely thank Sensei Buttler for her co-ordination of a wonderful day. There was cooking, games, a Japanese drumming exhibition and many other fun activities. Our children participated well and we thank that parents that assisted with the day.
Have a great week and thank you for your ongoing support.
Paul McDowell
Our students enjoy the Japanese Day.
Japanese Day Gallery
Dear Families,
A box of Rapid Antigen tests will be sent home today with each student. Children who have had Covid in the last 12 weeks, are not required to test.
Dear Families,
Now that the weather has turned, we ask that children take off their footwear in the shoe room upon entry into the school.
Children are able to wear slippers etc. in the classrooms to keep their feet warm.
Children are also able to bring old over clothes to wear over their uniform during outside play times to protect their school clothing.
Term Two Dates
Thursday - school lunch orders are available from the Gordon Shop. Please order and pay on Wednesday and lunches will be delivered to the school on Thursday.
Icy poles are available for 50 cents on a Friday at lunch time.
School Assembly - Friday 13th May at 3:10 pm.
Monday 16th May - Playgroup in our school hall.
Monday 9th May to Monday 6th June - Ballarat Aquatic Swim/Gym program for all students. (5 consecutive Mondays)
Week 3 - NAPLAN commences for Year 3 and Year 5 students.
Thursday 26 May 2022 to Friday 27 May 2022 - Year 3/4, 1 night Camp at Anglesea.
Thursday 23rd June - School Production.
Friday 24th June - Term 2 ends at 1:15 pm.
FUTURE DATES
Term 3 - School Photos - Tuesday 2nd August.
Year 3/4 Camp
Dear Families of Year 3 and Year 4 students,
It is only two weeks till our Year 3/4 students attend Camp Wilkin in Anglesea for a one night camp from 26 May 2022 to 27 May 2022.
This will be a fabulous experience for all students. Please return your permission slips to school and please make sure that all your child's medical information is up to date on Parent Access Module. (PAM)
Dear Families and Friends,
Please join with our wonderful playgroup on each Monday of term from 9:15 am to 10:45 am.
All community families and friends welcome.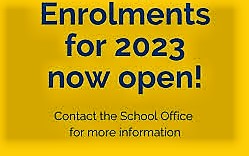 Enrolments and School Tours for 2023 now open.
Enrolments for 2023 are now open at St Patrick's Gordon for all year levels.
We encourage all prospective families to contact our school and we will organise a personal tour with Paul McDowell.
Personal school tours are the first step in the enrolment process. Enrolments are also open for children of existing families who start Prep in 2023.

For more information, please contact the school office on 5368 9495 or Mr. Paul McDowell via email : principal@spgordon.catholic.edu.au
Please place orders for Scholastic Book Club on or before Friday 13th May.