Term 2, Week 1 School Newsletter
News from the Principal
Dear Families,

Welcome back to our new school term. I hope everyone has had a restful break and enjoyed their Easter celebrations with family and friends.
An Easter Message
Easter gives hope for tomorrow,
As after the winter comes Spring.
Our hearts can be filled with gladness
As hearts rejoice and sing

Thank you to all children and families for their wonderful participation in our Easter Liturgy. The children were very respectful and I thank Libby McKew for all the work she put into it.
The Easter Bonnet Parade was amazing and we thank all children for their wonderful efforts. Congratulations to our 2022 winners - Jack, Elle, Olivia, Eva, Ruby, Logan, Yan and Ollie.
The Hot Cross Bun drive was a huge success, with the Parents and Friends raising $244.00 in commission.
We are incredibly grateful to the families for their generosity in regard to Project Compassion and our Easter Egg raffle. Over $900 was raised and it will be donated to displaced families in Ukraine.
Public Holidays in Term 2 Please note that in Term Two we have a Public Holiday.
Monday 13th June Queen's Birthday Holiday
School Uniform
For the first 3 weeks of Term 2 we will be in a transition phase for Uniform. Children are permitted to be in either Summer or Winter Uniform. From Tuesday 10th May (Week 3) all children are expected to be in Winter Uniform
Have a great week and welcome back to Term 2.

Paul McDowell
Principal
Dear Families,
In honor of our Mothers, Grandmothers and signigicant others in our children's lives, we will be having a Mother's Day afternoon tea and Liturgy on Thursday, 5th May commencing in our school hall at 2:30 pm.
Our Parents and Friends will be holding a Mother's Day Stall for the school children on Thursday 5th May. All gifts will be $5.00 and the stall will be held at the beginning during the school day. There is also lovely Grandmother presents available for the children to purchase. Please send cash with your children on this morning.
Dear Families,
On Friday 6th May we will be having our annual Japanese Cultural Day. Sensei Buttler has organised many great activities for the day.
Children are welcome to wear any Japanese clothing they may have at home.
The pictures above were taken at our Japanese Day in 2017.
Dear Families,
Now that the weather has turned, we ask that children take off their footwear in the shoe room upon entry into the school.
Children are able to wear slippers etc. in the classrooms to keep their feet warm.
Children are also able to bring old over clothes to wear over their uniform during outside play times to protect their school clothing.
Term Two Dates
Thursday - school lunch orders are available from the Gordon Shop. Please order and pay on Wednesday and lunches will be delivered to the school on Thursday.
Icy poles are available for 50 cents on a Friday at lunch time.
Year 5/6 Camp - Monday 2nd May - Wednesday 4th May - Campaspe Downs PGL Camp
Monday 2nd May - Playgroup resumes in our school hall.
Thursday 5th May - Mother's Day Stall. All gifts $5.00.
Thursday 5th May - Mother's Day afternoon tea and Liturgy beginning at 2:30 in the school hall.
Friday 6th May - Japanese Day for all students.
Monday 9th May to Monday 6th June - Ballarat Aquatic Swim/Gym program for all students.
Tuesday 10th May - NAPLAN commences for Year 3 and Year 5 students.
Thursday 26 May 2022 to Friday 27 May 2022 - Year 3/4, 1 night Camp at Anglesea.
Thursday 23rd June - School Production.
Friday 24th June - Term 2 ends at 1:15 pm.
FUTURE DATES
Term 3 - School Photos - Tuesday 2nd August.
Year 3/4 Camp
Dear Families of Year 3 and Year 4 students,
We are pleased to advise that children from the above class will attend Camp Wilkin in Anglesea for a one night camp from 26 May 2022 to 27 May 2022.
2022 SWIMMING AND GYM PROGRAM
Our five week Swimming/Gymnastics Program will take place for all students from Monday 9th May to Monday 6th June.
Children will be transported to and from the Ballarat Aquatic Centre via bus coach company.
Dear Families and Friends,
Please join with our wonderful playgroup on each Monday of term from 9:15 am to 10:45 am.
All community families and friends welcome.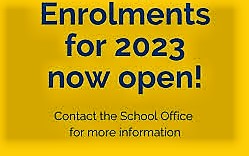 Enrolments and School Tours for 2023 now open.
Enrolments for 2023 are now open at St Patrick's Gordon for all year levels.
We encourage all prospective families to contact our school and we will organise a personal tour with Paul McDowell.
Personal school tours are the first step in the enrolment process. Enrolments are also open for children of existing families who start Prep in 2023.

For more information, please contact the school office on 5368 9495 or Mr. Paul McDowell via email : principal@spgordon.catholic.edu.au
Please place orders for Scholastic Book Club on or before Friday 13th May.
We send all our love to the Blazko Families on the loss of their beloved Grandmother and Great Grandmother, Billie.
You are in our thoughts and prayers.
From St Patrick's School Community.
POSITION VACANT
A position is available for a canteen manager for home games at the Springbank Football Netball Club. This is a paid position and for the right person would be an ongoing position.
All enquiries to Margie Quinlan 0417587237