Term 1, 2022 Week 3, School Newsletter
News from the Principal
Dear Families,
We start the 2022 school year at St Patrick's Primary School with high spirits and with much to celebrate.
We are delighted to see our new Foundation students, Lucy, Henry, Zavier, Olivia, Indy, Harry, Millicent, Jenna and Dermot settling into school life. We are also pleased to welcome Aidan (Year 5) and his parents Donna and Ryan, to our school. We will have a number of opportunities for parents to gather and to get to know these new members of our school community in coming weeks.
This year teachers will continue to focus on providing the best possible education for each child in their care. Teachers have worked hard over the past year to maximise learning in class and parents will notice a strong focus on developing complex questioning skills and providing feedback to students. Both of these areas have been identified as key elements of improving student learning outcomes nationally and internationally.
I look forward to working closely with parents, staff and children to ensure that our school continues to provide the best possible education for the children of St Patrick's Gordon, whilst also being a school which is inclusive, supportive and a great place to belong. We appreciate any help you are able to provide in helping us meet this goal.
Have a great year everyone.

Paul McDowell
Principal
Dear Father,
We pray our school will be filled with love.
We pray our learning will be full of truth.
We pray our playground will be full of joy.
We pray our friendships will be full of forgiveness.
We pray our teachers will be full of wisdom.
We pray our community will be full of hope.
May we run with your love,
build on your truth,
play with your joy,
share your forgiveness
and rest in your wisdom every day
Amen
First Day Photos
Term One Dates
Wednesday 9th February - Foundation student rest day.
Thursday 10th February - school lunch orders are available from the Gordon Shop. Please order and pay on Wednesday morning and lunches will be delivered to the school on Thursday.
Monday 14th February - Playgroup - 9:15 am - 10:45 am
Wednesday 16th February - Foundation student rest day.
Thursday 17th February - Lunch orders are available from the Gordon Shop
Friday 18th February - School Assembly at 2:45 pm
Monday 21st February - Playgroup - 9:15 am - 10:45 am
Tuesday 22nd February - Parent Information evening for - 6:30 pm - 7:30 pm.
Wednesday 23rd February - Foundation student rest day.
Thursday 24th February - Lunch orders are available from the Gordon Shop
Monday, 28th February -School Closure Day – Scaffolding Literacy PD for staff
Monday 28th February - NO PLAYGROUP DUE TO SCHOOL CLOSURE
March Dates
Tuesday, 1st March-Shrove Tuesday (Pancake Day @ St. Patrick's)
Wednesday 2nd March - Foundation student rest day.
Wednesday, 2nd March - Ash Wednesday
Thursday 3rd March - Lunch orders are available from the Gordon Shop
Friday, 4th March - School Assembly and Liturgy
Thursday 10th March - Lunch orders are available from the Gordon Shop
Friday, 11th March - Twilight House Sports (5.30 pm-7.00 pm)
Monday 14th March - Labour Day Public Holiday
Thursday, 17th March - St. Patrick's Day celebrations
Monday, 21st March - Moorabool Sports Day (Masons Lane Bacchus Marsh – whole school)
April Dates
Thursday, 7th April - Easter Paraliturgy @ 2.15pm followed by Easter Hat parade
Thursday 7th April - Term One concludes at 3.30pm
Friday, 8th April -School Closure Day – Christian Meditation PD for staff
Postponement of Year 3/4 Camp
Dear Families of Year 3 and Year 4 Students,
The Log Cabin Camp in Creswick was recently flooded and is undergoing major repairs. Due to this incident, our camp will not take place on the 15th and 16th March, as previously indicated.
As soon as we have more information in regard to this camp, we will advise families.
Congratulations to Ollie Peoples
Last Saturday Ollie Peoples competed at Albert Park Melbourne, in the State Combined Athletics Championships.

He came out overall 11th from a field of 60 in 5 different events. Long jump, hurdles, discus, 100 metre run and 800 metre run.

He is currently ranked 5th in the state for 60 metre hurdles and this is his favourite event.

He will compete in Regionals in Ballarat in 3 weeks time and hopes to qualify fast enough times in hurdles, 100 and 200 metres to go on and represent Ballarat at the State Competitions for these events.

Ollie said he had a great day!
Congratulations Ollie on your amazing achievements and good luck in the upcoming events.
Dear Families and Friends,
Please join with our wonderful playgroup on each Monday of term from 9:15 am to 10:45 am.
All community families and friends welcome.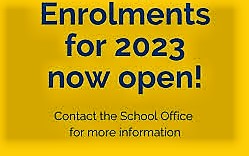 Enrolments and School Tours for 2023 now open.
Enrolments for 2023 are now open at St Patrick's Gordon for all year levels.
We encourage all prospective families to contact our school and we will organise a personal tour with Paul McDowell.
Personal school tours are the first step in the enrolment process. Enrolments are also open for children of existing families who start Prep in 2023.

For more information, please contact the school office on 5368 9495 or Mr. Paul McDowell via email : principal@spgordon.catholic.edu.au
HOT LUNCHES AVAILABLE EVERY THURSDAY
Dear Families,
Lunches for all school children are available from the Gordon Shop on a Thursday.
Please order and pay directly at the shop, on the Wednesday prior.
School Fees
School Fee Payment Agreement Forms were sent home to all families last week. If you have
not yet returned your form please complete it and return to the school office by Friday 11th
February. This form is to be completed by all families on an annual basis.

Family Fee Assistance Scheme
In all Ballarat Diocesan Catholic Primary Schools, tuition fee discounts are available to
families eligible for a means tested Centrelink or Veteran Affairs concession card. The
scheme offers tuition fee discounts to both Catholic and non-Catholic families, to new and
current students. If you are eligible for the above concession card and require further
information regarding this scheme, please contact the school office for more information.
Camps Sports and Excursions Fund (CSEF)
Families holding a valid means-tested concession card or temporary foster parents are
eligible to apply. $125 per year is paid for eligible primary school students.Payments are made directly to the school and are tied to the student.
Eligibility:
Families holding an eligible Centrelink Health Care Card, Pensioner Concession Card,
Veterans Affairs Gold Card on the first day of Term 1 or first day of Term 2 or be a
temporary foster parent will be eligible to apply.
COVID Safe Environment
Our school continues to monitor and abide by all COVID safe regulations and
recommendations issued by both the State Government and the Catholic Education Office.
Density Limits and Good Hygiene practices continue to apply.
Rapid Antigen Tests
 We request that ALL children are tested this Sunday night prior to the commencement
of the school year and every Tuesday and Sunday night thereafter.
 Free rapid antigen tests are available for all students at St. Patrick's Primary School
for the first four weeks of Term 1 2022.
 Rapid antigen testing will be voluntary for all students.
 Students will be requested to be tested twice weekly.
 Tests will be provided in packs of five individual tests.
Face masks
Face masks have proved an effective protection in previous outbreaks and are again a key
protection:
 Students in Year 3 and above must wear a face mask indoors at school, unless a lawful
exception applies.
 Students must wear face masks even if vaccinated.
 Students are not required to wear masks outside.
 Everyone over eight years old must wear a face mask when travelling to and from
school on public transport, taxis or ride share vehicles.
 School staff must wear a face mask in all indoor settings, except where removal of a
face mask is necessary for effective communication or teaching.
 Visitors to schools aged eight and above must wear a face mask in all indoor spaces,
unless a lawful exception applies.
Please find above link to Issue 1 of Scholastic Book Club. Please complete orders by Tuesday 22nd February.
Hard copies of Book Club are also available if required and order can be completed via the loop platform or via the school office.