Week 7, Term 4, 2021 School Newsletter.
Sacramental Celebration
Congratulations to Beatrix Flint, Georgie Conroy, Eva Pamic, Chelsea Winter, Charli Busuttil, Jez Barnes and Jobe Blazko who celebrated the sacraments of Confirmation and Holy Eucharist on the weekend.
News from the Principal
We had a very busy weekend celebrating with our school and parish children, as they celebrated the sacraments of Confirmation and Holy Eucharist.
I sincerely thank Fr. Sajan, Therese Winter, Libby McKew and the Parish Sacramental team for their guidance in preparing the children so well.
We have a very busy few weeks ahead. Next Tuesday 23rd November, all children will attend a movie excursion to the Regent Cinemas in Ballarat. Please ensure all children are at school at 8:50 am for 9:00 am bus departure and please return your signed permission slip by the end of this week.
Our Mission Fete day will be held at school on Thursday 25th November from 1:15 - 3:30 pm. Please come along and support the children's small stalls. Teachers will be sending home further information via the class dojo app.
On Friday 26th November our House and Cross Country Sports and Social evening will be held from 5:30 pm to 7:30 pm. Please return your attendance slip and food requirements by Friday 19th November. Once again, we are very lucky to have Sinisha cooking his amazing chicken souvalakis.
We had our first Foundation orientation day yesterday and we were delighted to welcome our new 2022 students into our school. The children had a wonderful morning familiarising themselves with classroom routines.
Enjoy the rest of your week and thank you for your ongoing support.
Paul McDowell
MANGA ART WORKSHOP
Manga is a form of Japanese comic book drawing and we were very lucky, that Sensei Denise organized a very worthwhile workshop with the very talented, Sam Harmer.
Sam was able to give us another wonderful experience today across F-6 in our Japanese classes.
DATES FOR YOUR DIARY
Thursdays - Hot Lunches available from the Gordon Shop. Please order on Wednesday prior.

Monday 15th November - 2022 Foundation student orientation. 9:15 am - 11:30 am

Monday 22nd November - 2022 Foundation student orientation. 9:15 am - 11:30 am
Tuesday 23rd November - Movie excursion to the Regent Cinemas in Ballarat. Please ensure all children are at school at 8:50 am for 9:00 am bus departure
MISSION FETE DAY - Thursday 25th November. 1:15 - 3:30 pm. All welcome.

Friday 26th November - House Cross Country Sports and Social evening. 5:30-7:30 pm

Monday 29th November - 2022 Whole school orientation. 9:15 am - 11:30 am
Tuesday 30th November - Damascus orientation day for students attending in 2022.
Wednesday 1st December - Graduent and family dinner at the Wallace Hotel at 6 pm.
Monday 6th December - 2 night, Year 5 & Year 6 Campaspe Downs Camp.
Tuesday 14th December - Final day for students and end of school year Mass at 2pm.
2022 Term One - All students resume school on Monday, January 31st.
Golf Clinics
Our children continue to enjoy their golf clinics with Tony Collier, who is a professional golfer. There will be another two golf clinics before the end of the term.
Thank you to Eliza Smith for co-ordinating this program.
Code Red and Total Fire Days.
As we enter the bushfire season for another year it is important that the guidelines regarding school arrangements for CODE RED days, Total Fire Ban days and bushfire alert days are clearly articulated to all parents.
The DEECD (Department of Education) Bushfire at Risk Register (BARR) determines which schools will not open on Code Red Days. St Patrick's Gordon has been identified as being at high fire risk on the Department of Education's BARR Register, and as such we will remain CLOSED on a CODE RED day.
Where possible, three (3) days notice of a planned closure will be provided. However, experience indicates that a Code Red fire danger rating day may be forecast at short notice. Parents and guardians should expect that in some instances less than three days notice may be provided.
Once the final decision to close is confirmed at 12 noon the day prior, this decision will not change – regardless of any changes in the weather forecast. This will help limit confusion and help families plan for how their children will be cared for when their school is closed.
When a school is closed in response to bushfire risk, no one, including staff, contractors and other users, will be permitted on site.
Parents are advised to talk to children who are old enough to understand, about bushfires and your family's bushfire survival plan – particularly if you are planning day trips or holidays to fire-prone areas.
Please feel free to contact the school if you require further advice or information.
Please click on the above link to access Issue 8 of the Scholastic Book Club. Orders due by November 18th, 2021.
Year 5/6 School Camp
The Year 5/6 Camp will take place from the 6th to 8th December and will be held at Campaspe Downs. The camp is set amid 180 acres of natural bushland in the Macedon Ranges, Close to Kyneton and Hanging Rock.
There is a wide range of facilities to enjoy, including sports stadium.
Often when children reflect on their time at Primary School, they recall moments on camp as some of their fondest memories. We all need to be challenged at times in our lives, particularly to take on more responsibility, to face our fears and reassure ourselves that we are always capable of achieving much more. Camps are a wonderful way to do this.
Information and permission slips were sent home yesterday. Can these please be returned to Mr. Lamb at your earliest convenience.
END OF YEAR - REGENT CINEMA EXCURSION
Dear Families,
All school children will attend a school excursion at the Regent Multiplex to view the movie "Ron's Gone Wrong".
Travel to and from the excursion, will be via a private bus company.
The date of the excursion is next Tuesday 23rd November and we are all very excited to be attending this movie.
All students will need to be at school at 8:50 am on this day for bus travel.
Parish Mass Times
20/21 November - Dunnstown-Saturday 6.30 pm, Sunday-Gordon-8.45 am and Ballan-10.30 am.
27/28 November - Clarkes Hill-Saturday 6.30 pm, Sunday - Gordon-8.45 am & Ballan-10.30 am.
The Polish scientist, Marie Curie, and her husband Pierre discovered 2 new elements which they called "polonium" and "radium". The elements were radioactive.
Marie Curie's work in radioactivity was of great benefit in medicine. It was discovered that cancerous cells could be killed by the use of small amounts of radioactivity, without seriously damaging nearby healthy tissue.
The Curies refused to "patent" their work and discoveries, saying that "Physicists should always publish their researches completely. If our discovery has a commercial future, that is a circumstance from which we should not profit. If radium is to be used in the treatment of disease, it is impossible for us to take advantage of that."
Marie Curie - born in November 1867 - became world-famous, and was awarded two Nobel Prizes. Unaware in those days of the dangers of radioactivity. She died from radiation poisoning at the age of 65.
Let us pray Lord,
there is so much that I don't know,
and I ask you to inspire me
with a thirst for knowledge.
I pray, too, for wisdom
that I may use my knowledge well.
I give thanks
for many people I have never met
whose knowledge and understanding
have been passed on to me.
I ask that I may benefit
from their work and experience
and may contribute, in turn,
to the well-being of others.
Amen.
QR CODE AT ST PATRICK'S SCHOOL
All persons entering our school building must scan the QR code.
These records will help with any future contact tracing that may be necessary in slowing the spread of coronavirus (COVID-19).
Some visitors may not be able to scan a code. Our poster has a unique six-character location code they can enter via the Service Victoria app (available through the Apple App Store and Google Play Store).
Please join us at Monday Playgroup
Playgroup takes place each Monday morning of school terms, from 9:30 am to 11 am. All community families welcome.
Our final 2021 playgroup will take place on Monday 13th December, with a Christmas themed celebration.
Community Message
The Friends of Paddock Creek will be holding their AGM at the reserve rotunda in Gordon on 5th December at 10 am.
All families welcome. If you have any queries, please contact Stephen Derrick on 0417 326 860.
Pastoral Care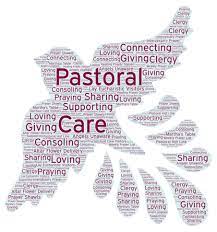 Pastoral care is key to our strong sense of community across the School. There are many threads to the programme – both formal and informal – and all have the intention of addressing the well-being of each student at their individual point of need.
Vivian Lunt is the Pastoral Care Worker at our school. She is a qualified and a very professional and caring Pastoral Care Worker employed at our school every Thursday.
Vivian works with individual children on request, class groups and parents and families as required. All interactions remain strictly confidential.
If any family would like to access this service, either for themselves personally or their child, please contact the school office for an appointment with Vivian.
Please note 10% discount is currently on offer at Crockers Uniform Store. This will end on the 30th November.