Week 5, Term 4, 2021 School Newsletter.
News from the Principal
Dear Families,
Last Friday was World Teachers Day. It is timely that our teachers are celebrated as we come out of lockdown. I appreciate the work and commitment of our staff over the last twelve months. Happy World Teachers day to all the staff. I am so happy to be working with a fine group of people!
We were delighted to be able to welcome all students back yesterday, after the very wild weather we all experienced at the end of last week.
I hope that you all enjoyed your long weekend and that some of you backed a winner in the Melbourne Cup.
School Fees
A reminder that all school fees payments are due by the end of November. If you are having difficulty making a payment, please contact Paul Mc Dowell. Thank you.
There are many activities in our final weeks of school, so please take notice of our school calendar.
Please be advised that our final day for 2021 will be on Tuesday 14th December. We will finish our year with a school Mass at 2 pm in St Patrick's Church, Gordon. All families and friends are invited to join with us.
Paul McDowell
Principal
Week 3 Student Award Winners
Congratulations to Ruby Moran, Georgie Conroy and Layla Nissan on receiving Student Awards in week three of Term four.
Dear Families,
If you have not already done so, can you please complete the above survey in regard to out of school hours care at St Patrick's, School in 2022.
This is a feasability survey to gauge our families interest in accessing onsite afterschool care in the future.
Thank you for your assistance.
DATES FOR YOUR DIARY
Thursdays - Hot Lunches available from the Gordon Shop. Please order on Wednesday prior.



Monday 8th November - 2022 Foundation family interviews
Tuesday 9th November - Parent/Teacher/Student conversation - Bookings now open via Parent Access Module.
Wednesday 10th November - School Photos
Thursday 11th November - Remembrance Day
Monday 15th November - 2022 Foundation student orientation. 9:15 am - 11:30 am

Monday 22nd November - 2022 Foundation student orientation. 9:15 am - 11:30 am
Tuesday 23rd November - Movie excursion to the Regent Cinemas in Ballarat.
MISSION FETE DAY - Thursday 25th November. 1:15 - 3:30 pm. All welcome.

Friday 26th November - House Cross Country Sports and Social evening. 5:30-7:30 pm

Monday 29th November - 2022 Whole school orientation. 9:15 am - 11:30 am
Tuesday 30th November - Damascus orientation day for students attending in 2022.
Wednesday 1st December - Graduent and parent dinner at the Wallace Hotel at 6 pm.
Monday 6th December - 2 night, Year 5 & Year 6 Campaspe Downs Camp.
Tuesday 14th December - Final day for students and whole school Mass at 2pm.
Parent/Teacher/Student interviews
Please make a booking, if you have not already done so.
Dear Families,
Parent/Teacher/Student interviews will take place next Tuesday, 9th November from 3:00 pm to 7:30 pm. Each interview will run for 10 minutes.
For Parents/Carers to attend in person, you will need to be doubly COVID19 vaccinated. There is also an option on the booking site for the school to phone you and conduct the interview this way. Please QR code in on arrival and wear a mask.
Bookings are now available via our Parent Access Module. (PAM) The website address is https://pam.spgordon.catholic.edu.au
The screen below will appear. Your username is your email address. If you don't remember your password, please select 'Forgot Password' option to reset it.
You are able to save the above address to your mobile device by adding to Home Screen.
For any further queries, please contact the school office.
MSP PHOTOGRAPHY
Dear Families,
Next Wednesday is our rescheduled school photo day. If you still have your original photo envelopes, they are able to used. Otherwise you can order and pay on the below link. I will send out student shoot keys via email.
If you have any further queries in regard to ordering, please contact MSP directly on 03 5333 5577.
We ask that all children wear their full summer uniform on the day.
Thank you.
Code Red and Total Fire Days.
As we enter the bushfire season for another year it is important that the guidelines regarding school arrangements for CODE RED days, Total Fire Ban days and bushfire alert days are clearly articulated to all parents.
The DEECD (Department of Education) Bushfire at Risk Register (BARR) determines which schools will not open on Code Red Days. St Patrick's Gordon has been identified as being at high fire risk on the Department of Education's BARR Register, and as such we will remain CLOSED on a CODE RED day.
Where possible, three (3) days notice of a planned closure will be provided. However, experience indicates that a Code Red fire danger rating day may be forecast at short notice. Parents and guardians should expect that in some instances less than three days notice may be provided.
Once the final decision to close is confirmed at 12 noon the day prior, this decision will not change – regardless of any changes in the weather forecast. This will help limit confusion and help families plan for how their children will be cared for when their school is closed.
When a school is closed in response to bushfire risk, no one, including staff, contractors and other users, will be permitted on site.
Parents are advised to talk to children who are old enough to understand, about bushfires and your family's bushfire survival plan – particularly if you are planning day trips or holidays to fire-prone areas.
Please feel free to contact the school if you require further advice or information.
Please click on the above link to access Issue 8 of the Scholastic Book Club. Orders due by November 18th, 2021.
Year 5/6 School Camp
The Year 5/6 Camp will take place from the 6th to 8th December and will be held at Campaspe Downs. The camp is set amid 180 acres of natural bushland in the Macedon Ranges, Close to Kyneton and Hanging Rock.
There is a wide range of facilities to enjoy, including sports stadium.
Why is it important for children to attend camps? The benefits are many and varied. Here are someobvious benefits of school camps…
The development of social skills and independence- Getting along with others, Coping with shared accommodation, Interacting appropriately with others, Forming strong friendships.
Personal challenges- Taking on new responsibilities, Responding to new environments, Coping with changes to routines.
Team building and leadership skills- Relying on others to complete tasks, Encouraging self and others to succeed, Finding creative solutions to challenges.
Encouragement of physical fitness and active lifestyles- Gone are the iPads and computers, Many outdoors activities for learning,
Learning to live and work together, as part of a camp community, by helping with duties. For instance, helping around meal times including setting up, packing up, and washing up after a meal and keeping those rooms tidy!!!
Often when children reflect on their time at Primary School, they recall moments on camp as some of their fondest memories. We all need to be challenged at times in our lives, particularly to take on more responsibility, to face our fears and reassure ourselves that we are always capable of achieving much more. Camps are a wonderful way to do this.
END OF YEAR - REGENT CINEMA EXCURSION
Dear Families,
All school children will attend a school excursion at the Regent Multiplex to view the movie "Ron's Gone Wrong".
Travel to and from the excursion, will be via a private bus company.
The date of the excursion is on Tuesday 23rd November and we are all very excited to be attending this movie.
Permission slips will be sent home next week.
QR CODE AT ST PATRICK'S SCHOOL
All persons entering our school building must scan the QR code.
These records will help with any future contact tracing that may be necessary in slowing the spread of coronavirus (COVID-19).
Some visitors may not be able to scan a code. Our poster has a unique six-character location code they can enter via the Service Victoria app (available through the Apple App Store and Google Play Store).
Please join us at Playgroup
We are delighted to announce that our Playgroup has recommenced on a Monday morning from 9:30 am to 11 am. All community families welcome.
Pastoral Care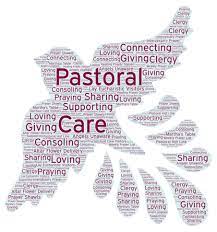 Pastoral care is key to our strong sense of community across the School. There are many threads to the programme – both formal and informal – and all have the intention of addressing the well-being of each student at their individual point of need.
Vivian Lunt is the Pastoral Care Worker at our school. She is a qualified and a very professional and caring Pastoral Care Worker employed at our school every Thursday.
Vivian works with individual children on request, class groups and parents and families as required. All interactions remain strictly confidential.
If any family would like to access this service, either for themselves personally or their child, please contact the school office for an appointment with Vivian.
Please note 10% discount is currently on offer at Crockers Uniform Store. This will end on the 30th November.